Overview:
We are on a mission to integrate all the awesome products under the PDQ umbrella. The first step on this journey is to unify the way users log in and manage the applications they use.
We have created new sections in the billing portal that will serve as the framework for launching into the PDQ product suite, managing the users in your organization, as well as managing your subscription.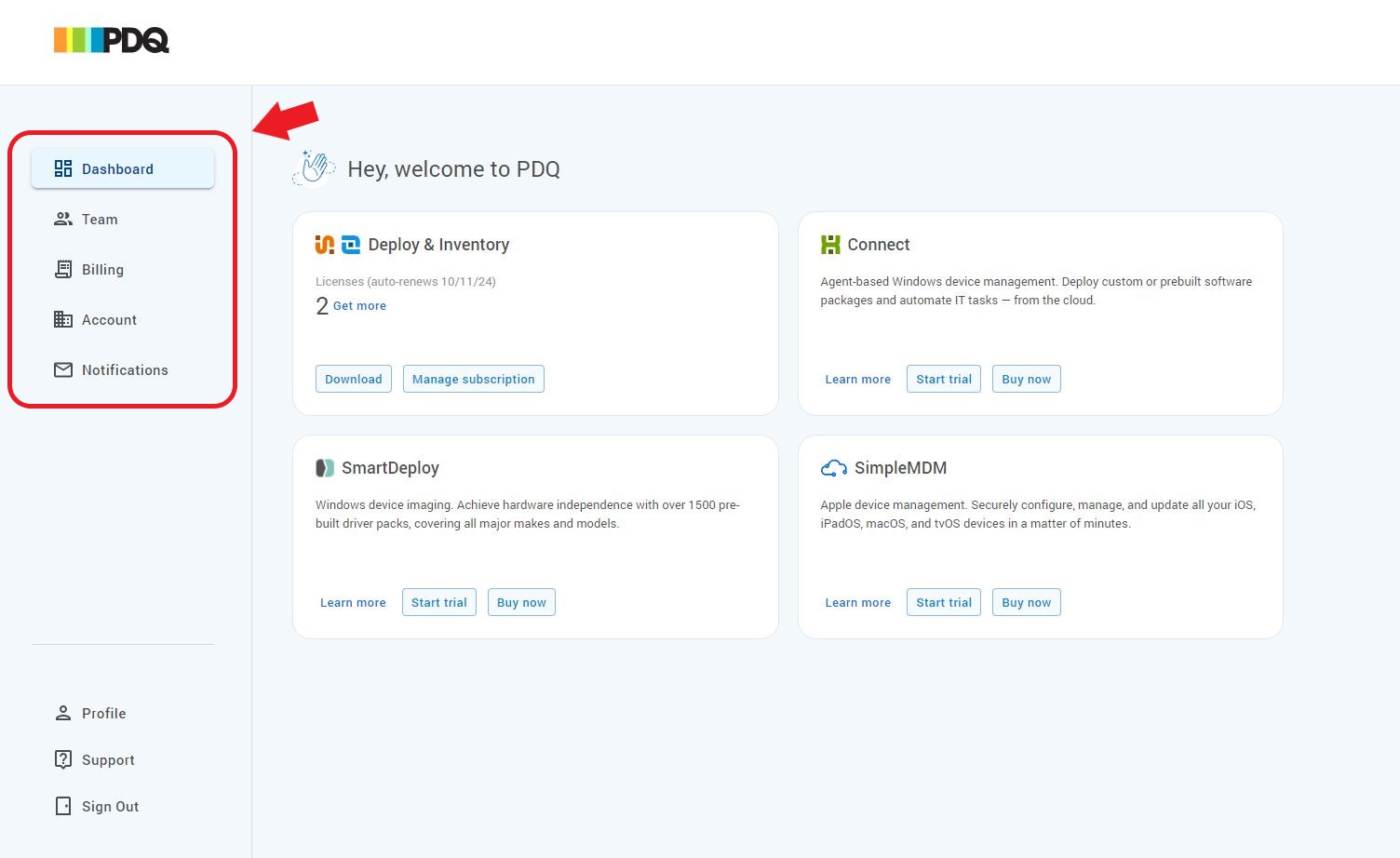 Dashboard
This is where you'll manage your Deploy & Inventory subscription. You can access your license keys along with the latest installers.
Team
This is where you can invite users to your organization, manage their role, and remove existing users.
Billing
This is where you can update your billing information, view previous invoices, and see any existing quotes.
Account
This page shows your organization name as it appears on your account. If you need to contact support, including this can be helpful for us to verify your account.
Notifications
This is where you can subscribe or unsubscribe from subscription-related emails.
Billing Portal FAQ & Troubleshooting:
I

can't

access my team's PDQ account

!
Have a license, but not a login? If you haven't logged into our billing portal before, you might need to reset your password. You can request a password reset email by selecting the 'Forgot Password' option on our login page. If you don't receive a password reset email, or have any trouble accessing your account, please reach out to sales@pdq.com.
I'm

receiving subscription

emails, but I

can't

login to my account.
Login access for your account may be linked a different email address.
If you have access to your Deploy / Inventory console, check under Help > Current Configuration Summary. This will open a text document which includes the licensed email, along with some other details about the PDQ server.
You can also reference the license key email that was sent from a pdq.com address when your team started the subscription. This will usually be addressed to (or forwarded from) the account owner.
Still need assistance? Don't hesitate to reach out to our team at sales@pdq.com.
To help verify your account, please include at least one of the following in your support ticket:
A text copy of your PDQ Deploy & Inventory license key(s).

Your technical contact's email address.

A previous invoice, quote, or order number.