Schedule a Demo
Are you hoping Deploy & Inventory will help you solve a nagging issue, or just simplify your IT team's day-to-day? Let us help! One of our in-house experts will guide you through how Deploy & Inventory work together to see exactly how our software can save you precious time and resources. Click here to find a time that works best for you.
Start a Trial
If you've used Deploy & Inventory before, or you'd like to jump straight into testing, you can get started by trying PDQ Deploy & Inventory with a free 14-day trial. To start your trial, go to www.pdq.com and click the 'Start a 14-day trial' button. You will be asked to either sign-in or create an account.
If you already have a PDQ account but have not yet started your trial, you can begin your trial from the Dashboard after logging in.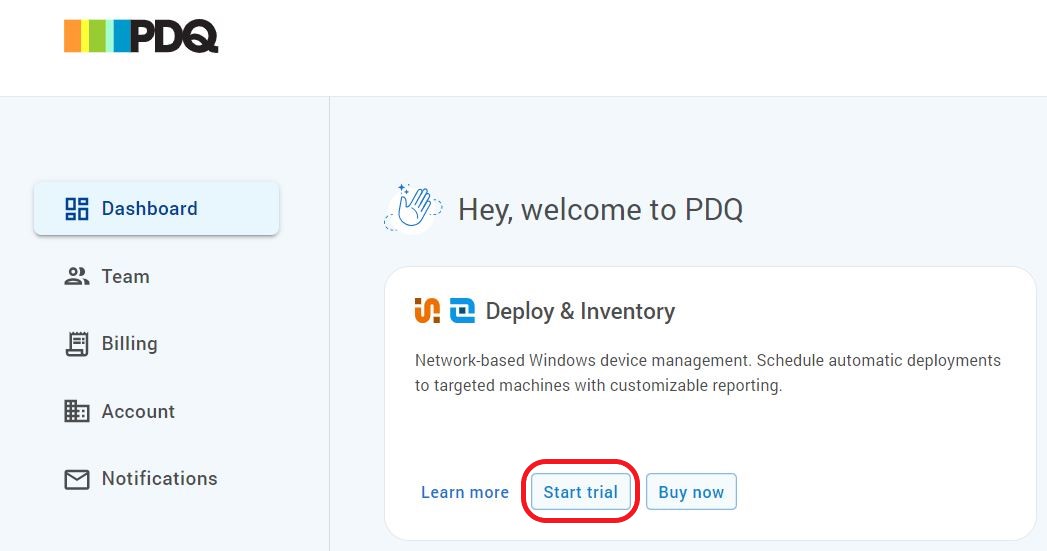 Helpful Tools and Resources: 
We highly recommend the following resources to help you get the most out of your trial:
support@pdq.com – Can't find the solution you're looking for? Reach out to our expert sysadmin team for help with any technical questions. Let us know about the issue(s) you are experiencing, and we'll be happy to help (and screenshots are always wonderful).